Learn how to Teach English with the Best TESOL course in the World
Why are we the best?
Over 20 years of running TEFL International courses worldwide.

Worldwide locations.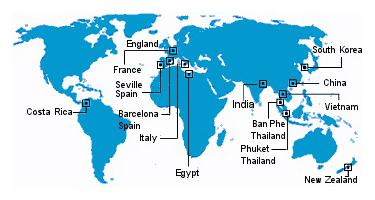 TEFL International offers a 4-week TESOL certification course, along with job placement services. With your TESOL (Teach English to Speakers of Other Languages) certificate and your college degree, you are just what schools overseas are looking for to teach English overseas to their students. And Business English is another huge market overseas right now!
This is your chance to escape the economic doldrums and become a fully-employed professional in a matter of weeks! Just think what that will look like on your resume in the future! Just think of spending your weekends hiking mountains and national parks, touring temples, and eating food that your unemployed stay-at-home friends can only dream of!
Even if you've never had an education class or taught in a classroom before, TEFL International's teacher trainers will guide you through the basics of lesson planning, classroom management, and then you'll actually be given the opportunity to stand in front of a class of foreign students to do your own student teaching! 89% of our graduates are employed as English teachers within 30 days of graduating. TEFL International backs up our courses with continuous, well-connected, and knowledgeable job placement services – completely free-of-charge to our graduates. It's part of the package. We've been conducting TESOL certification classes around the world for the past 12 years – we're stable, reliable, and we know what we're doing. We promise you some good things in your life from our course, but we'll never promise you anything we can't deliver! Your choices of where to teach overseas are almost endless! 
Tuition and Fees:
Online TEFL Course fees: $120