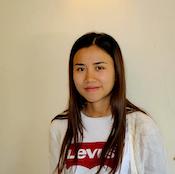 It's likely that you don't know how easy it would be to change someone's life. Because sometimes it's hard to understand just how lucky many of us are. We won the lottery because of where and when we were born.
Half of the world's population--over 3 billion people--live on less than $2.50 a day. Kind of staggering 80% of the world's population lives on less than $10 a day. Think about that the next time you buy your Iced White Chocolate Mocha at Starbucks--that's two days of income for over half the world.
In most countries, the opportunity to get an American degree is limited to the super elite. The cost of going to an American university for an international student is about $200,000.
Yet an American degree can be the key to prosperity and success. Unfortunately, the way it works now, there's a cycle of wealth. Only the wealthy can go. Only the wealthy gain the benefits.
At Oregon Institute of International Education, we want to give this opportunity to people who would never dream of getting it. And because we can offer full degrees at a fraction of their normal cost, it doesn't take much of a commitment or an effort from you and a few friends to sponsor an international student to get their American degree.
Let's do a little bit of math. A Venti Iced White Chocolate Mocha at Starbucks is about $5. What if you skipped your Starbucks trip three times a week? That's $65 a month. Could you convince nine friends to do the same? Or perhaps just nine strangers would choose to do the same thing?
For $650 a month at our program in Bangkok Thailand, students can receive a degree from Lamar University. This covers their tuition, books, expenses, food, and housing. Everything.
Imagine a young girl in the Philippines. She doesn't have a lot of opportunities. Once she finishes high school, if she's lucky, she can find a job working as a salesgirl in the mall. It doesn't pay much (about $150 per month) but at least she would have a job. If she's less lucky she is just unemployed, possibly gets pregnant, and struggles to support both herself and her child.
Now imagine the same young girl was given an opportunity to get her degree in hospitality management from Lamar University. Upon finishing she would have opportunities to work in management at hotels literally all around the world earning thousands of dollars a month. This small change would change her life and the lives of her children and grandchildren.
We have dozens of potential students seeking financial aid on our go fund me page. Take a look, to someone who you feel is deserving, and skip a few coffees. Because we are a 501(c)(3) nonprofit, your contributions are completely tax-deductible.