Graduate International Summer University 2021 in Thailand
'Entrepreneurship in Asia and Cross-cultural Communication'
Visit Bangkok, Chiang Mai, and Ko Samet!
09-29.08.2021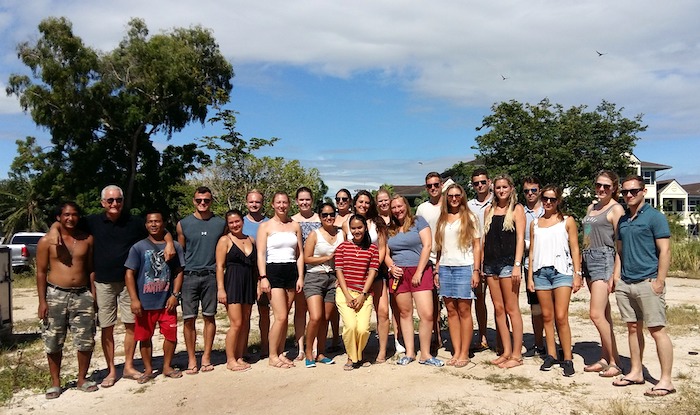 Oregon Institute of International Education (OIIE) has begun in June 2020 to prepare the Summer University 2021 in Thailand on Entrepreneurship and Cross-cultural Communication. The program will be offered in collaboration with a recognized university that will issue you the academic transcript that you need to transfer your credits earned to your home university.

In this 21-day academic program across the different regions of Thailand, you gain hands-on learning experiences guided by seasoned business practitioners focusing on applicable knowledge in the fields of entrepreneurial thinking and cross-cultural communication. Besides a 48-hour academic graduate course, there is a comprehensive non-academic program that brings you out of the classroom to experience the different cultures across Asia, as they are all at home in Thailand.

There are 40 places available at this Summer University. The application period begins in September 2020 closes on 31st May 2021, or when all places are booked, whatever comes first.
Eligibility criteria for participants:
At least 2 years of university studies when the program begins
At least 20 years of age
Why entrepreneurship & cross-cultural communication in Asia?
The ability to think and act entrepreneurially is critical to the long-term success of any modern organization, and so is the ability to learn from Asia. In this program, you will learn how to get access to Asian thinking and behavioral patterns from different perspectives.
What will you get from this program?
The workload of this graduate course is worth 6 ECTS credits (equivalent to 3 Thai graduate credits, transferable). Learn through experience what Thailand can teach you, get inspired through a new and fresh perspective, turn inspiration into feasible opportunities, and build a valuable network for your future. Or, just enjoy an increasing understanding of different cultures, if you are not too interested in business. Anyway, we are sure that we will get you excited by this program.
Get a Glimpse of the 'SummerU Feeling'!
We certainly cannot provide you with a video from this upcoming SummerU, just since it didn't happen yet. But we can show you the atmosphere at a previous Summer University on Entrepreneurship in 2015, organized by BUSEM Bangkok University School of Entrepreneurship and Management. The video is courtesy of Michael Staribacher, the participant who made it.


What is included, and what is not?
Included are lectures, at least four company visits in different industries, all accommodation, most meals, in-country travel, as well as excursions to Chiang Mai and Ko Samet Island, and of course field trips in and around Bangkok.

Not included are your travel expenses to and from Thailand, your travel and health insurance, vaccinations (if your doctor recommends any), and your private expenses for going out or shopping.
Program Modules
1. Cross-cultural Communication
2. Creating an Entrepreneurial Mindset
3. Meet Successful Entrepreneurs in Thought and Action
Graduate University Credits = 6 ECTS credits (transferable)
The final program syllabus will be available by the end of 2020.
Program Fees
The total program fee is € 1.950.
An application fee of € 500 is due within one week after your application is accepted (free of all bank charges for us, non-refundable). The payment of the application fee secures your place in the program.
€ 1.450 is payable before 9 June 2021 (free of all bank charges for us).
The closing date for applications is 31 May 2021 (or when all places are booked, whatever comes first).
Extra-curricular Activities
Nobody comes to Thailand to spend all the time in classrooms.

You will gain lots of hands-on experience from our framing programs, such as visits, tours, and activities; using various modes of transportation, from bus over a plane to tuk-tuk and long-tail boat, speed boat, and ox-coach; meeting entrepreneurs with different cultural backgrounds, such as Arabian, Chinese, Indian Japanese, and certainly Thai (e.g., Buddhist, Muslim, Christian, and ethnic groups) - giving you a new and fresh perspective on almost every aspect of doing business anywhere on the world.
Program Schedule
Please note: This schedule is from 2019. The preliminary schedule for 2021 will be available by August 2020 and finalized end of 2020.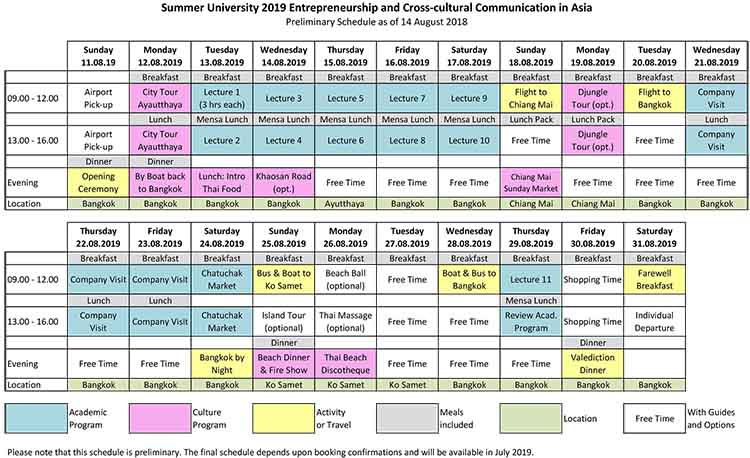 Any Questions about the SummerU?
Please contact Ulrich Werner at [email protected]. He is the head of our SummerU program, and he is here to help!

Ulrich organized the Summer Universities in 2012. 2013, and 2014 at Asian University in Thailand, co-organized the 2015 Summer University at Bangkok University and organized the 2019 Summer University at Siam Technology College.