TESOL Certificates
The Oregon Institute of International Education has over a decade of experience in offering external accreditation and evaluation services, having provided these services in over 20 nations and 6 continents.
TESOL Certificate courses: Headed up by our TESOL academic director, David B Hopkins, our TESOL certificate course accreditation service includes a review of sample materials from the trainees, a review of final exams, a review of final course feedback, and an interview with the lead trainer. A final report, with recommendations for improvement, is then produced for each course.
Dave Hopkins has been a professional teacher and teacher trainer of TESOL for more than four decades. He has worked and lived in Brazil, Botswana, Pakistan, Egypt, Japan, Saudi Arabia, Thailand and Cambodia. His teaching and training portfolio includes Peace Corps training, Setswana materials development, development of refugee training projects, English for academic purposes, business English, and, program development and management. He was the Academic Director and course developer for TEFL International for ten years, and, a Senior English Language Fellow for US State Department in Pakistan in 2010. He is currently an English Language Specialist listed by the Bureau of Cultural and Educational Affairs of the U.S. State Dept., and the Moderator and Academic Director for TEFL International courses worldwide. He is an instructor in the BA TESOL program at Siam Technology College in Bangkok, Academic Director and Course Moderator at TEFL International.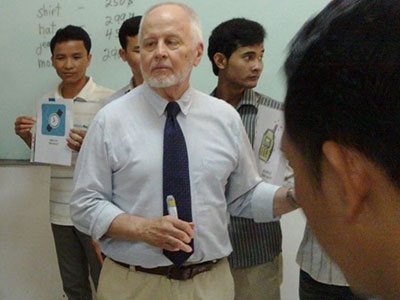 David B Hopkins