BRUCE VELDHUISEN - Founder and Chief Executive Officer
PhD, Education (France), MBA (USA), BA, Economics and International Relations (USA)
First moved to Hong Kong in 1984 at the age of 20
Began working in China in 1988
Began his career in International Education in 1991, first teaching English and then running English schools in Hong Kong.
Founded TEFL International in 1998 and oversaw its international expansion
Created multiple international programs with foreign universities
Developed several partnerships between US, EU and Asian universities
Traveled to over 40 countries and lived outside of the US for 29 years • Speaks Cantonese, Mandarin, and Thai
MESSAGE FROM THE FOUNDER AND CEO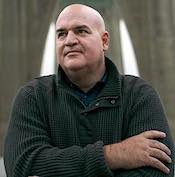 I grew up a pretty normal kid in a small town in Oregon where I graduated high school and began college. Then I had a unique opportunity to live, study and work in Hong Kong for 18 months.
It changed my life. My experience in Asia and ability to speak two Chinese languages certainly gave me many job opportunities. But it was far more than that.
Since changing my career path in 1991, leaving Business for Education, it has been my goal to give more people from the West an opportunity to experience these unique and beneficial life experiences.